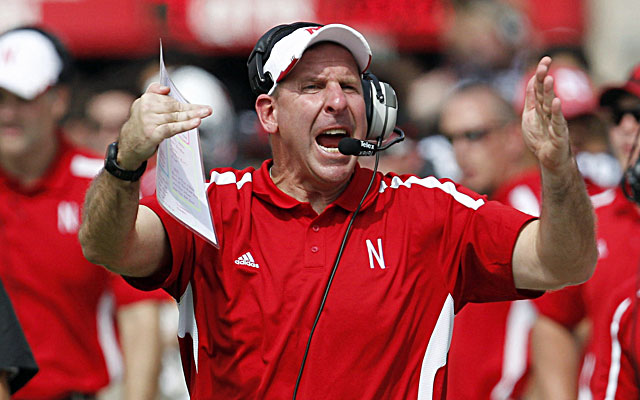 Here in Nebraska the most influential, popular and public figure is not the governor or even Warren Buffet. It is the head football coach at the University of Nebraska. That coach is currently Bo Pelini. And he finds himself a bit more in the public eye than normal (he has been the number one trending topic on twitter for the better part of a day).
What did he do? In short he had a private conversation 2 years ago. The conversation was secretly recorded and then surprisingly released yesterday. In the audio Pelini did his personal best to wear the F word out of existence. He laid out the fans and the news media after a dramatic come from behind win. It's bad, even worse than this paragraph makes it sound. (link to story in the Omaha World Herald, audio has bad language)
As is the case with so many news stories, there is an observation and a lesson for us. We don't have to go too far to find it. The story is dripping with irony and convenient patterns of hypocrisy.
I neither condone nor excuse the coach's comments. However, how many of us would be comfortable having our lives recorded and then published to a website for all to hear? The comments were horrible, however, instead of excusing them or clinging to them people might be able to identify with them. In a moment of weakness the man spoke and acted. Surely we can identify with this. The Bible warns against being judged in the same manner as we judge. This is a verse we often forget (Mt. 7:1-2).
We are also reminded that "secrets" are never really secrets. As Bo knows now first hand, things have a way of coming to light. To use a biblical phrase, "your sin will find you out.." (Num. 32:23). This should remind us that there is a greater judge than public opinion or scrutiny. There is one who sees everything we say, do, and even think. We will all stand before him one day for judgment; where secrets are revealed.
Another aspect of the story that is incredibly interesting is the issue of identity. Nebraska fans have this perception that they own the market on honor and support of the game and the program. The coach obviously is a big part of it. And he too wants honor and support as he is supposed to give it. Here in this case we have fans being unsupportive and dishonoring because they do not like the product (numerous reports of booing, cussing, and other unmentionable emerge from the very game that preceded Pelini's tirade). In response the coach privately responds with his own unfettered dishonor and lack of support for the fans. The coach and the fans are perpetuating a very dysfunctional relationship. The issue emerges when you hear and read fans' comments. They say he is a disgrace and very much not in line with Nebraska football. He is not like us they say. Hold on a second. He actually is. Fans are tired of Pelini because he is not like them? Maybe fans are tired of Pelini because he is like them. And they don't like what they see.
This story reflects the metric of our society; we want mercy but demand justice, we want honor but we disrespect, we want perfection yet we are fraught with weakness, we want people to be accountable to us but demand personal autonomy. The only escape from the hypocrisy is redemption. This is why the Christian message is so appropriate. Our answer does not come from within (we are broken) nor does it come from society (also broken). It comes from above. Jesus lives the perfect life we couldn't and wouldn't live. He dies the death we deserve to die. He rises powerfully from the dead defeating death, sin and Satan. In other words, Jesus makes an end to everything that presses upon us from without and restores us within. He frees us from trying earn approval from others by earning lasting approval before God. This enables Christians to be rescued from ourselves and from the bondage of trying to judge and stay better than everyone else (1 Jn. 2:1-2). This is a lesson I'm still learning myself.